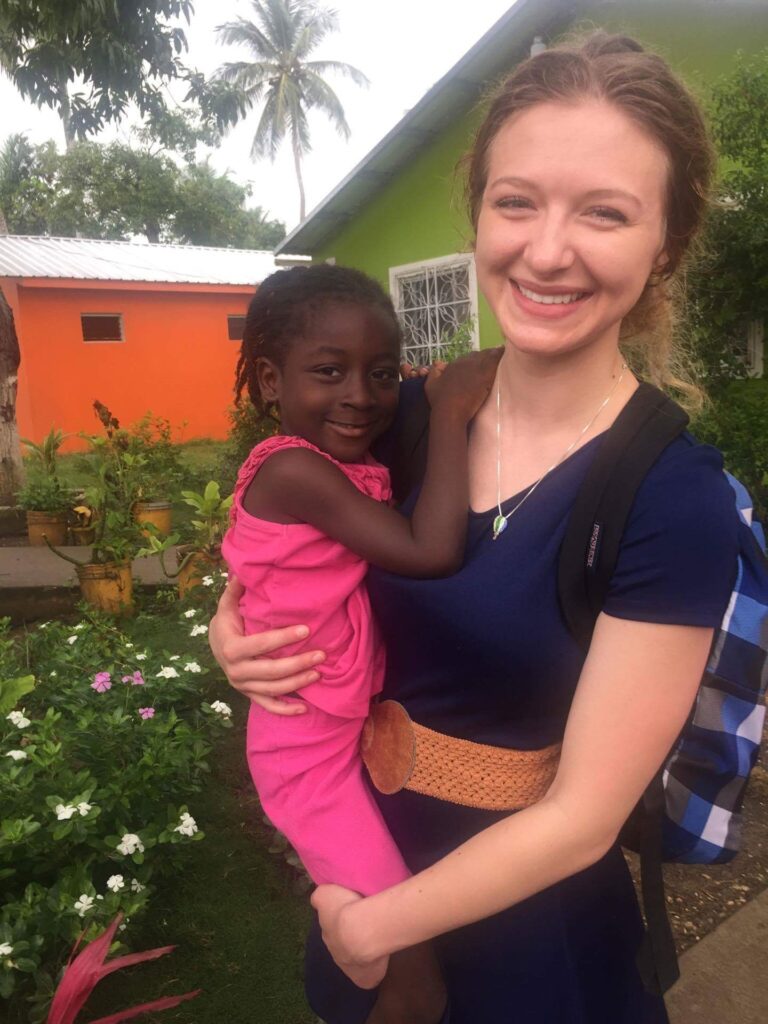 Bonjou, supporters of Love Takes Root! Or, if you are reading this in the afternoon, then bonswa! I hope that you all are healthy and well! When asked, "how you are doing?" in Haiti, many people respond with "pa pi mal," meaning "good-bad" or "so-so." It troubles me to report that, currently, life is less "pa pi" and more "mal" in Haiti right now. However, the audacious Haitian spirit is still shining in the people of Haiti, especially in the children and staff of La Concorde. 
In mid-September of 2022, Dr. Rick Wilkerson and I ventured to Haiti. Although everyone remained safe, the trip did not go as expected. To paint a picture of the current state of Haiti for you, I will compare this most recent trip to the first time I went to Haiti with Love Takes Root in 2017. In 2017, our 2-van group of people embarked on the 58-mile winding road journey from Port-au-Prince to Jacmel. In America, this trip might take 1 hour; in 2017, in Haiti, this trip took over 6 hours, thanks to the crowds of people and cars on the road. In 2022, it is no longer safe to travel this road, so we took a small plane from Port-au-Prince to Jacmel. When Dr. Rick and I were in a vehicle between airports, we were one of only a few vehicles on the road, and there were fewer people milling about than there were in 2017. Those who were out walking did not smile and wave to us as they had in 2017. The heaviness of their spirits were tangible. When I learned about the astronomical gas prices and experienced some of their political unrest, I realized it was no wonder why this spiritual heaviness is their current state. 
Although inflation has hit Americans hard, it is essential to remember that what hits us hard hits less economically-endowed countries, such as Haiti, even harder. A common complaint amongst Americans right now is gas prices. However, when we were in Haiti, we discovered that gas is $25 per gallon. This is outrageous, but even worse is the stunning fact that an average Haitian worker makes $4.83 per day (60 cents per hour; https://www.workers.org/2022/02/61801/). It's no wonder why we were the only vehicle on the road!
Another example I would like to use from my 2017 trip is the Cyvadier hotel in Jacmel, Haiti. This beautiful abode is the place we stay each time we visit. In 2017 and the trips I was on prior to this 2022 trip, the Cyvadier was bustling. People from Europe, Asian countries, Canada, and America filled the tables and poolside chairs. Most recently, Dr. Rick and I were the only people staying there. An air that was once filled with laughter and dialects from many languages was now quiet. 
We were unable to care for patients at the hospital or visit with the graduates of the Love Takes Flight program because of the political unrest. The streets were filled with protestors, overturned vehicles, debris, and burning tires, making it nearly impossible for us to travel anywhere. However, the children at La Concorde are well-protected and remain safe. 
Haiti seems stuck, but I know there is hope. I fell in love with the Haitian people during that 2017 trip. They are adventurous and creative, even when things are dismal. Their culture is colorful and full of many intriguing legends. They dance and sing as freely as birds fly in the air. Now more than ever is the time for us to support our Haitian friends. I am here to let you know that your sponsorship, donations, and prayers are not wasted! La Concorde is a shining light of weightlessness in the midst of this heaviness. Because of your support, we were able to bring supplies to the pharmacy, shoes, and undergarments for the children, who are still singing and anxiously awaiting for school to start again. 
With love and sincere gratitude, 
Megan Wassom, CST, PA-S